We must thank Coca-Cola for starting the Mobile Payment revolution.
Helsinki Airport, Finland, 1997.
A passenger is dragging their case through a vast, grey terminal building. It's late. They're thirsty. Struggling through the crowds they reach a Coca Cola vending machine.
Their head drops. "Pahuksen!" They've got no change. No currency. But they have got their mobile. "Dial-a-Coke?"
They key-in the short code printed on the front of the machine into their Nokia and a can drops out. Little did they know, as they took their first glugs of cold cola, they had made the world's first mobile payment.
The Dial-a-Coke concept evolved from a project to install phones in drink vending machines that would call the distributor when stocks ran low. When the costs for that idea didn't add up, national mobile network operator Sonera and Coca Cola decided to leave the devices in the machines and consider other possibilities.
Possibilities like: Consumers text a code to get their can and the charge appears on their monthly phone bill. Possibilities like: Mobile payments.
It was a success. The experiment was moved to the Helsinki University of Technology. After two weeks the company reported just under a third of cans were bought with mobiles.
Cut to UAE, 2018.
Samsung Pay has  been launched, followed by the much hyped Apple Pay. Then there is the Beam Wallet mobile payment plus rewards platform. Emirates NDB Pay and Etisalat Wallet have also been around for a while.
But old habits die hard. According to UAE Central Bank figures, about 75 per cent of transactions in the country are made in cash. In fact, the UAE has about Dh65.4 billion in cash circulating outside the banking system.
Old Habits die hard. Cash is still King in the UAE.
So let's take a look at what kind of mobile payment methods are already available in the UAE
Samsung Pay
Samsung Pay was initially released on August 20, 2015, in the company's homecourt of South Korea. The UAE was the first in the Middle East and 14th globally to get the service, though it is present in 17 countries, including early adopters. During Samsung Pay's first-year anniversary in August 2016, they celebrated it by revealing that the service was used for over 100 million unique transactions.
You can pay just by using certain Samsung devices supporting magnetic secure transaction and near field communication technologies, just by simply tapping your device on the payment terminal. In the UAE, you can use the Galaxy S8, S8 , S7, S7 Edge, S6 Edge , Note 5, the 2016 versions of the A5 and A7, the 2017 A Series and Gear S3 to avail the service.
How to use Samsung Pay
Samsung Pay is simple to use – it takes just three simple steps:
Step 1: Swipe up to access the app
Step 2: Authenticate with your fingerprint
Step 3: Tap your phone on the terminal to pay.
The 3 layers of Security:
Fingerprint Authentication: All transactions will be authorized by the users fingerprint.
Samsung KNOX: Continuously monitors any vulnerabilities and keeps information encrypted in a secure data vault.
Tokenization: Each transaction uses random tokens, instead of card numbers keeping the users details safe.
Apple Pay
Apple Pay was originally launched in 2014 in the US, and launched internationally in 2015. Apple says it processes 90 per cent of all payment made with NFC. Apple Pay holds 90 per cent of all transactions worldwide, making it a leader in near-field communication – a technology that connects smartphones with retailers. The UAE, along with Sweden, Finland and Denmark, brings the total number of countries with Apple Pay to twenty. The UAE is the first country in the region to get Apple Pay.
Anyone holding a credit card from six of the country's banks – Mashreq, Emirates NBD, Emirates Islamic, RAK Bank, HSBC or Standard Chartered – with an iPhone 6 or later can pay with their phone or watch at the checkout.
How does it work?
For starters, you're going to need a device. Apple says everything iP

hone 6 and above (including the iPhone SE) is compatible with Apple Pay. All versions of Apple Watch will also work, as well as the iPad Air 2 and iPad Mini 3. You'll also need to make sure your phone is updated to iOS 11, Apple's latest mobile operating system.
Then you'll need a participating credit or debit card – so, far Visa and MasterCard is accepted from six major UAE banks: Emirates NBD, Mashreq, HSBC, RAKBANK, Standard Chartered and Emirates Islamic.
When checking out at a store, you'll pull up the card in the Passbook app on your iPhone and hold it near the reader. Apple Pay will verify your identity using the phone's fingerprint sensor, and then you're all set.
If using the Apple Watch, you simply double press the Digital Crown on the side of the watch to pull up your card, and then hold it near the reader.
How to set up?
The procedure is a little different depending on which device you want to set up Apple Pay on, but either way it's simple and doesn't take more than a few minutes.
On iPhone and iPad:
1) Go to Wallet and tap Add Credit or Debit Card.
2) Follow the steps to add a new card. If you're asked to add the card that you use with iTunes, just enter its security code.
3) Tap Next. Your bank card or card issuer will verify your information and decide if you can use your card with Apple Pay. If your bank or issuer needs more information to verify your card, they'll ask you for it. When you have the information, go back to Wallet and tap your card.
4) After your bank or issuer verifies your card, tap Next.
On Apple Watch
1) On your iPhone, open the Apple Watch app
2) Under the My Watch menu, tap on Passbook & Apple Pay
3) Tap on 'Add Credit or Debit Card'.
4) Follow the instructions as above.
How to use?
This is the easy part. With your iPhone or iPad, you simply hold your device up to a contactless card reader, resting your thumb on the home button (that's where the fingerprint sensor is that verifies who you are), and hey presto, transaction complete.
With an Apple Watch, you just double-press the Digital Crown, choose the card you want to pay with and wave your Watch towards the reader. You'll get a friendly little buzz to let you know the payment is successful and you don't even need your iPhone with you to do it.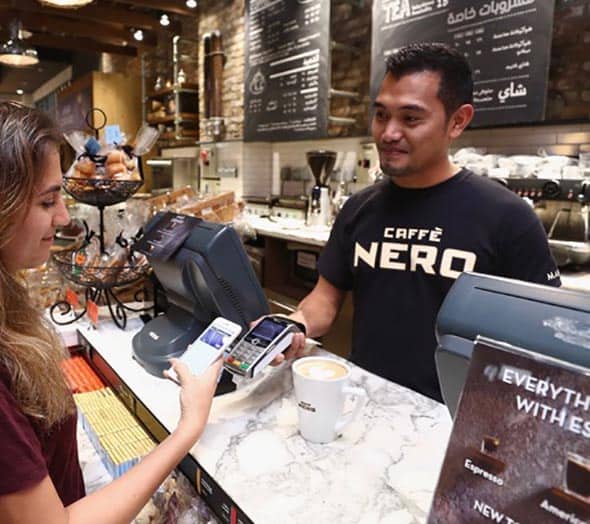 Where?
Apple says that "tens of thousands" of retailers across the UAE currently support Apple Pay, across retail, hotels and dining.
Some of the mosre prominent outlets include: Carrefour, Dubai Duty Free, Costa Coffee, McDonald's, Marks & Spencer, Address Hotels and Resorts, Virgin Megastores, Spinneys and, of course, the Apple Store.
A number of apps including Namshi and Talabat will also be accepting payment via Apple Pay starting today.
Beam Wallet
For a company that was established only in 2012, Beam Wallet had much to celebrate when Majid Al Futtaim Ventures announced a "landmark investment" in the UAE-based mobile commerce and rewards platform in December last year. The Beam Wallet is more of a consumer experience than a payments app. The experience includes loyalty, payments and real-time access to historical spend information.
It takes away the clumsiness of consumer and merchant interactions by creating a digital pipe between the two. It does so within the existing four-party model plumbing. This virtual pipe allows merchants to seamlessly transfer value to their customers' mobile apps. Consumers can redeem this value via the same virtual pipe. The Beam Wallet treats card accounts similarly, allowing consumers to use the same pipe to make payments effortlessly, while at the same time allowing them to redeem value. Just one simple effortless transaction. And consumers as well as merchants get real-time access to rich information on spend. For the card issuing banks, the Beam Wallet proposition proactively helps them retain, acquire and re-activate customers.
Emirates NBD Pay
When Emirates NBD launched its near-field communication-based mobile contactless payment service that enables customers to make in-store purchases instantlyvia their mobile banking app, it became the first in the Central Europe, Middle East and Africa region (CEMEA) to incorporate Visa's Token Service technology to launch a contactless payment solution.
Emirates NBD's Visa credit and debit card customers can use their NFC-enabled Android mobile devices to make purchases at NFC-enabled point-of-sale terminals by upgrading their mobile banking app on the Google Play store to link the app to their credit/debit card. Once the merchant initiates the payment, the customer simply has to wave his/her smartphone near the terminal to complete the transaction instantaneously.
Etisalat Wallet
The Etisalat Wallet app, available on Google and Apple app stores, allows customers to make purchases, pay utility bills, transportation fees, top-up Etisalat's mobile credit and much more.
Requirements to open a mobile wallet
• Customers need to have a valid Etisalat mobile account — postpaid or Wasel prepaid.
• A valid credit/debit/prepaid card from Visa or MasterCard.
• All you need is a PIN every time you want to carry out a transaction.
Key benefits:
• Accessible 24/7 directly via mobile phone.
• Rewards for each transaction.
• Pay utility bills.
• Purchase parking ticket in Dubai, Abu Dhabi and Sharjah.
• Top up etisalat credit, including for family members.
• Purchase goods and services at participating local merchants and major international store chains.
• Be in control of transactions with automatic reports, notifications and account management features.
• Provides high level of end-to-end security.
• Carrier billing or direct payment acceptance for purchases made from leading application stores including Google Play, Ovi, Microsoft and BlackBerry, and soon on Apple iTunes.
What else is out there?
Android Pay: Currently not available in the UAE. No launch date as of yet. Works with all NFC-enabled Android devices. It's free to use.
Google Wallet: Currently not available in the UAE. No launch date as of yet. Works with iOS and Android devices.
So, while there have been major strides taken by various companies to convince the UAE customers to take that leap of faith in accepting mobile payments; it remains to be seen how long the "Cash is King" syndrome holds its grip. To start with, I'd recommend you start using at least one of the available options above. After all, if you have read this article, you are already someone who is interested in knowing what the future holds!
Please follow and like us: